Grow and maintain happy members!
When your business depends on maintaining and growing its membership base, then you need a CRM that delivers the email automation required to nurture new memberships and entice new customers with ongoing, tempting offers. Mothernode CRM contains all the features you need to effectively manage your member relationships and member communications, and automate your sales process to help meet your growth goals every time.
Easily manage your member accounts in a safe, secure environment

Create stunning email campaigns that keep your membership community informed about upcoming and ongoing activities

Build strategic lead nurture sequences that will increase conversion rates

Manage all your customer communications on one spot
Trusted by industry leaders
Stay Connected with your Members
Inform and engage your membership base by using Mothernode CRM to develop eye-catching announcements that draw interest and make it easy for recipients to learn more and take action.
Design attractive announcements in just minutes
Perfect for newsletters and upcoming events
Make it easy for recipients to register
Develop ongoing campaigns to maximize interest
Make Registrations a Breeze!
Mothernode CRM makes event registrations informative, fast and easy, with everything your attendees need to learn more, sign-up and spread the news to give friends an opportunity to participate.
Easy fee payment via Stripe
One-click adds event to attendee's calendar
Need directions? They're included!
Popular and fast social media sharing options
Always Remain Top of Mind
Follow-up sequences enable you to develop ongoing campaigns designed to attract new members and strengthen your current membership base. Automate your campaigns and let Mothernode CRM do the work for you!
Re-engage and energize prior members
Keep your current members wanting more
Easily analyze recipient views and clicks
Quickly identify high-engagement for new leads!
Find out what Mothernode can do for you
Oh yeah. You can also do all this…
Unlimited Customers and Contacts  |   Send up to 25,000 emails/month.
Online Registration
Turn Registrations into Lasting Customers
Trainers, speakers, consultants and event managers can harness the power and efficiency of Mothernode's Event Registration platform. Design beautiful registration templates, accept registration payment and use Mothernode's marketing automation for upcoming event announcements and long term follow-ups.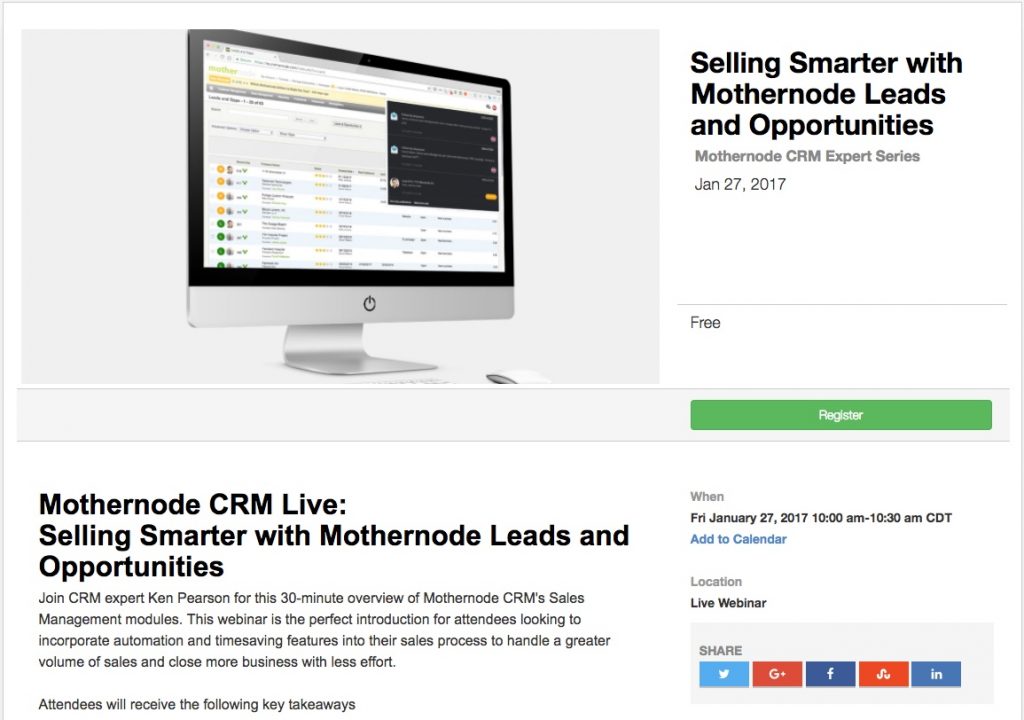 Account Management
The easiest way to manage your members and their interests
When it comes to effectively managing your customer data, Mothernode delivers! Everything you need to know about your customer is available in a simple, easy-to-read customer profile. Customize tabs, access contacts and record details. From customer notes and appointments, to communications and follow-up sequences, managing your accounts has never been easier.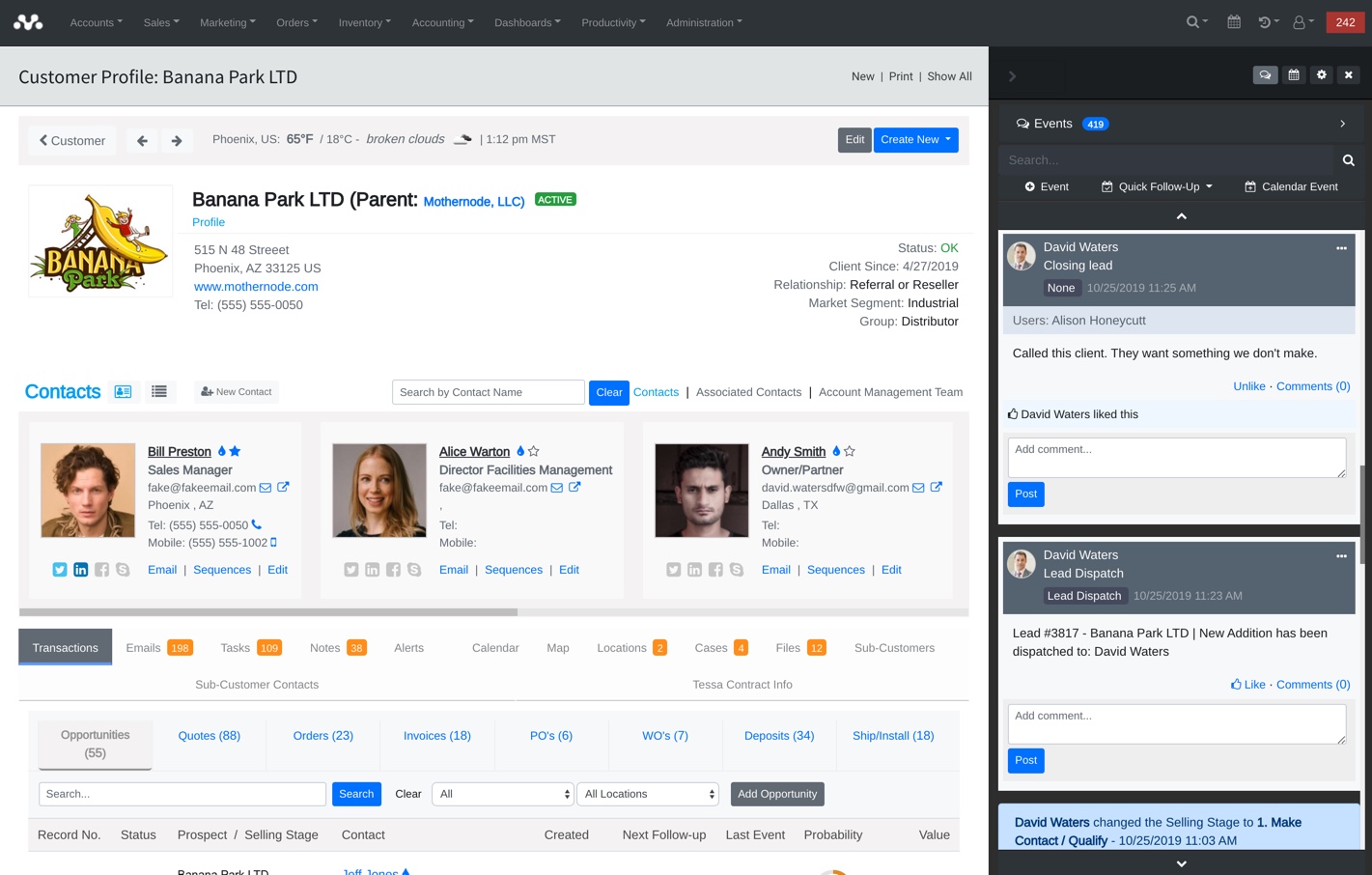 Marketing Automation
Intelligent solutions for distributing relevant content
Work smarter, not harder. Mothernode's email marketing automation gives you access to powerful content distribution features that will save you time and make you money. Expanding your engagement capabilities means broadening your opportunities like never before. Whether you're looking to compliment your sales process or retain more customers through better customer service, Mothernode's email automation features are a must-have.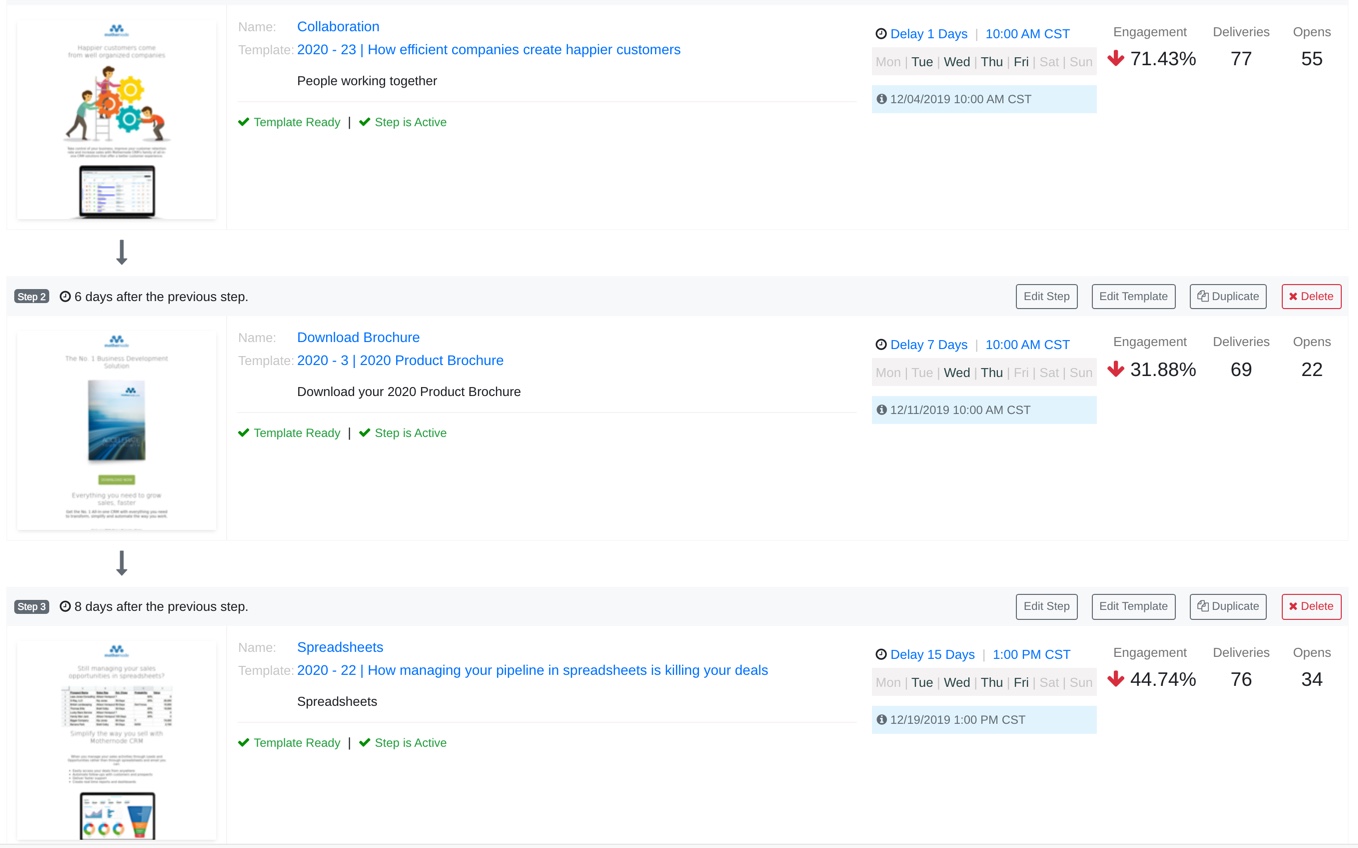 Lead Capture Forms
Fill your funnel
Mothernode's Lead Capture forms let you create and stylize forms for your website, blog and email marketing campaigns. Harvest your online leads and instantly inject them into your sales and marketing processes.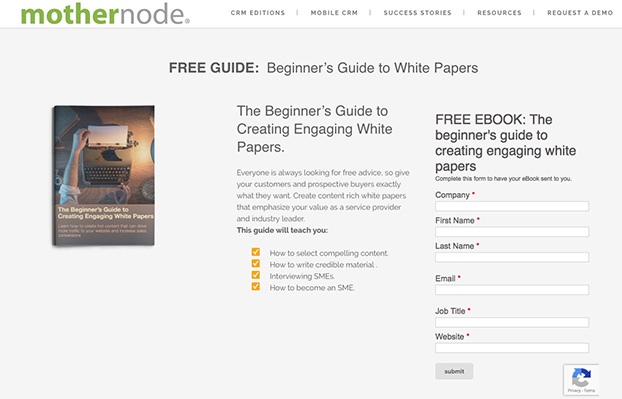 Template Studio
Design tools for non-designers
Mothernode CRM's Template Studio makes designing captivating email a breeze. Drag and drop content from your desktop or image library, quickly add text, links, buttons and more, and voila you've got a brand new, stunning email that your prospects can't wait to receive!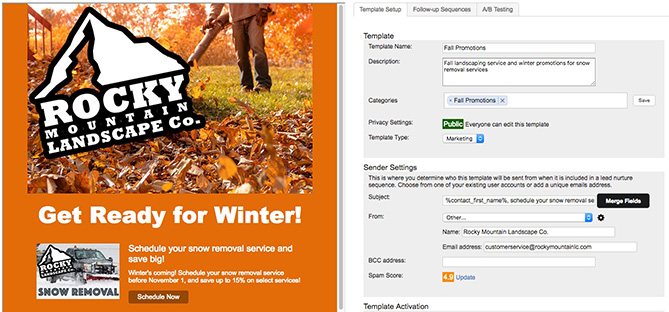 Report Automation
Information you want, when you want it
Do you forget to run reports? Mothernode doesn't! With built-in report automation features, you always get the information you need, when you need it. Mothernode's custom report features, available in each module, let you create your own reports and schedule them to be delivered to any email address you want. Build reports for yourself or send them to your team.

Real-Time Notifications
Stay in the know
With everything going on in your business, from sales to customer service, there's so much to keep track of. Mothernode CRM's notifications provide updates in real-time. Subscribe to the notifications most important to you and you'll always be in-the-loop.
Website Visitor Tracking
Tracking Interest
Mothernode CRM gives you real-time notifications when your contacts (either leads or customers) visit your website. Mothernode provides users with additional analytics, giving them insight into their prospect's precise interests. Track as many domains and websites as you want!

Gmail and Outlook
For the way you work
Mothernode CRM gives Outlook and Gmail users the convenience of accessing customer and contact data directly from within their email client with the Outlook Add-in or the Chrome Extension for Gmail.
Important: Disclaimer Notice
Mothernode CRM is NOT affiliated with ConstructConnect®, CMD, iSqFt, BidClerk or any other subsidiaries or organizations related to providing project information. ConnstructConnect® is NOT a partner or reseller of Mothernode products and services and Mothernode is not a partner or reseller of ConstructConnect® products and services. A Mothernode CRM Sales and Marketing Edition subscription (or greater) is required for ConstructConnect® compatibility. Contact your ConstructionConnect® representative for a full understanding of your integration options. Mothernode CRM's ConstructConnect® interaction requires an active ConstructConnect® Insight subscription.  For more information about ConstructConnect® and their products click here. For more information about Mothernode CRM and its compatibility with ConstructConnect® click here.