Supporting your clients after the sale
Keep your customer satisfaction rating high, after the sale, by offering your clients top-notch service with Mothernode CRM's Case Management system. Track each issue from start to finish with Mothernode Cases. Collaborate internally to help resolve issues, track time and expenses with ease.
• Access your complete customer history
• Create rapid responses for customers
• Create cases from emails
• Add customer support portals to your website
• Log all communications within each case
• Communicate internally with each team member
Trusted by industry leaders
Powerful Customer Service Tools
Mothernode CRM provides the tools you need to deliver outstanding customer support from start-to-finish, including centralized case management, tracking and communications.
Fast case creation from email or web form
Email your customer from within the case
Collaborate with you team without leaving the case
Send rapid responses using email templates
World-Class Support Begins Here
Make it easy for the customer to submit questions and service requests with Mothernode CRM's customer service portals. Simple to create, and easy for the customer to complete and submit their request.
Fast case creation from email or web form
Email your customer from within the case
Collaborate with your team without leaving the case
Send rapid responses using email templates
Find out what Mothernode can do for you
Oh yeah. You can also do all this…
Unlimited Customers and Contacts    |    Send up to 25,000 emails/month.
Account Management
Centralized customer data
When it comes to effectively managing your customer data, Mothernode delivers! Everything you need to know about your customer is available in a simple, easy-to-read customer profile. Customize tabs, access contacts and record details. From customer notes and appointments, to communications and follow-up sequences, managing your accounts has never been easier.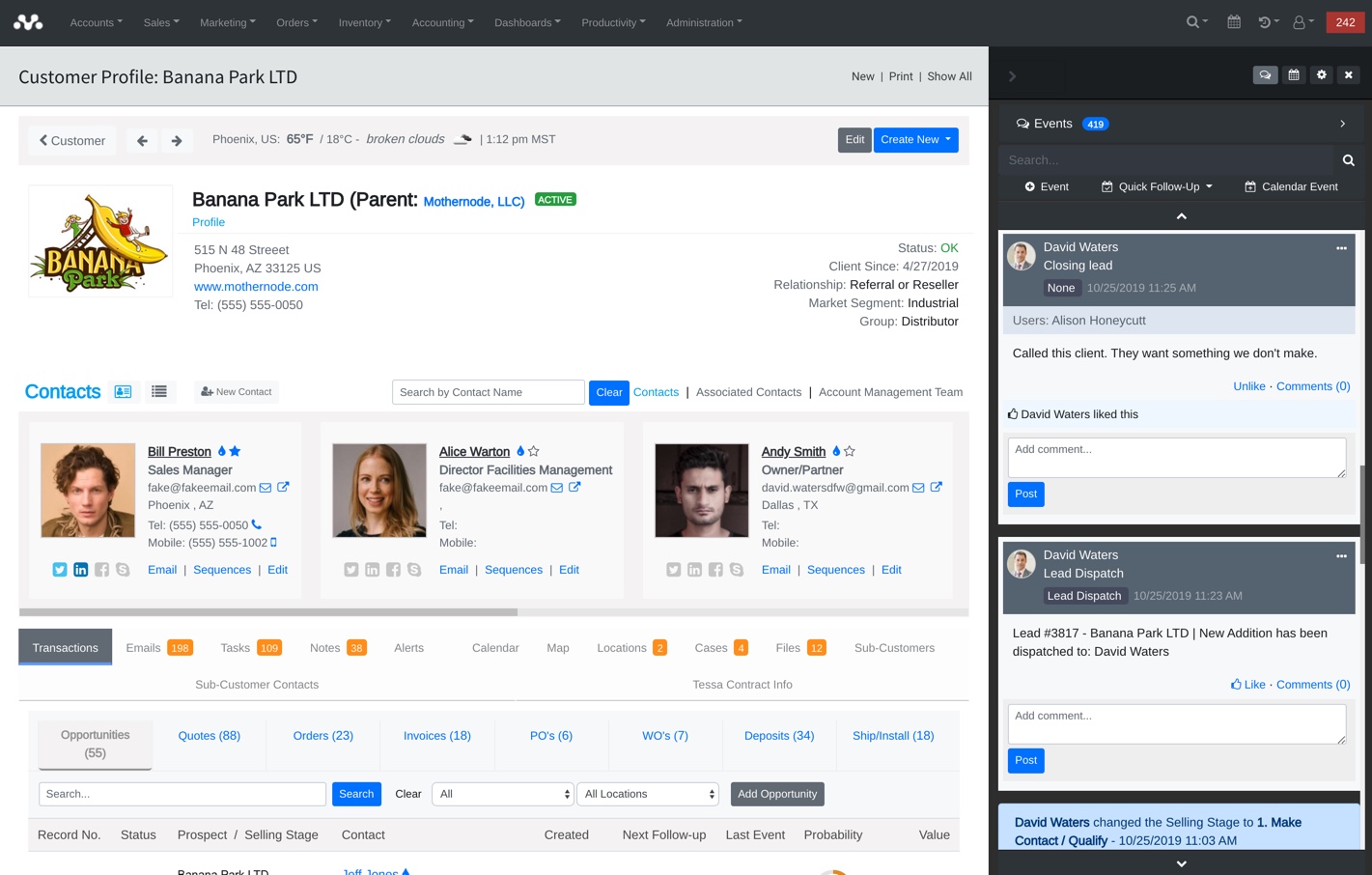 Quotes
Powerful, professional rapid pricing
Hands-down one of the most powerful quoting modules you'll find in any cloud CRM. Everything you need for producing quotes and estimates quickly. Mothernode quotes include version tracking, products and service listings, deposit tracking and can be delivered for electronic signing.
Onboarding Automation
The easiest way to automate your customer support
Work smarter, not harder. Mothernode's email marketing automation gives you access to powerful content distribution features that will save you time and make you money. Expanding your engagement capabilities means broadening your opportunities like never before. Whether you're looking to compliment your sales process or retain more customers through better customer service, Mothernode's email automation features are a must-have.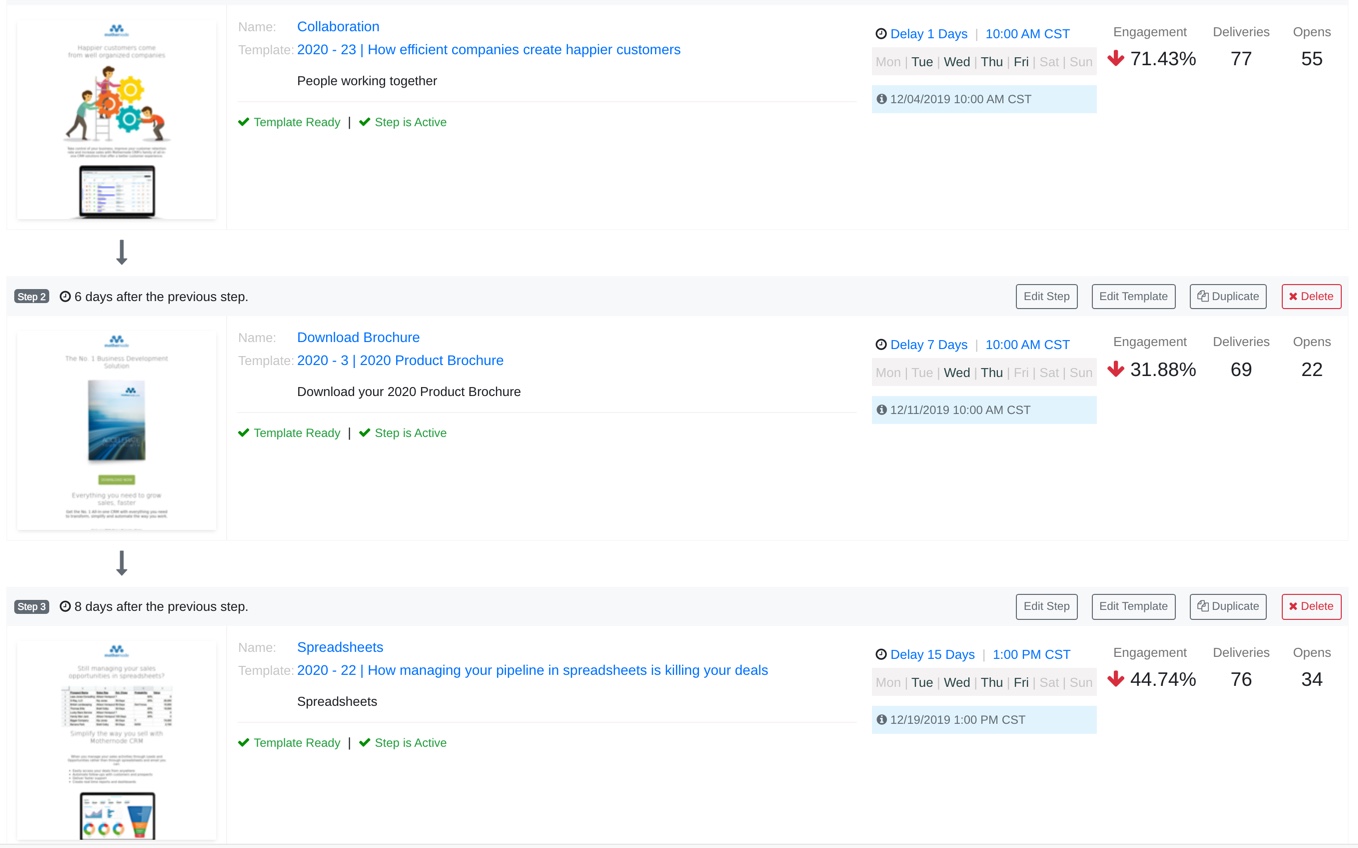 Template Studio
Design tools for non-designers
Mothernode CRM's Template Studio makes designing captivating email a breeze. Drag and drop content from your desktop or image library, quickly add text, links, buttons and more, and voila you've got a brand new, stunning email that your prospects can't wait to receive!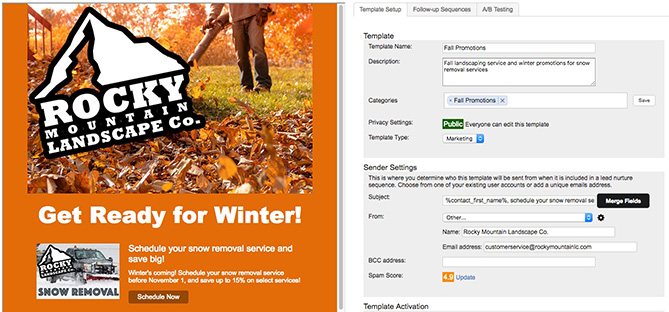 Lead Capture Forms
Fill your funnel
Mothernode's Lead Capture forms let you create and stylize forms for your website, blog and email marketing campaigns. Harvest your online leads and instantly inject them into your sales and marketing processes.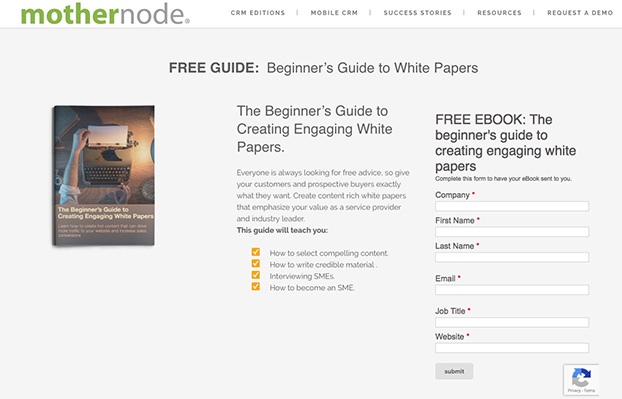 Online Registration
Training Webinars and Product Reviews
Trainers, speakers, consultants and event managers can harness the power and efficiency of Mothernode's Event Registration platform. Design beautiful registration templates, accept registration payment and use Mothernode's marketing automation for upcoming event announcements and long term follow-ups.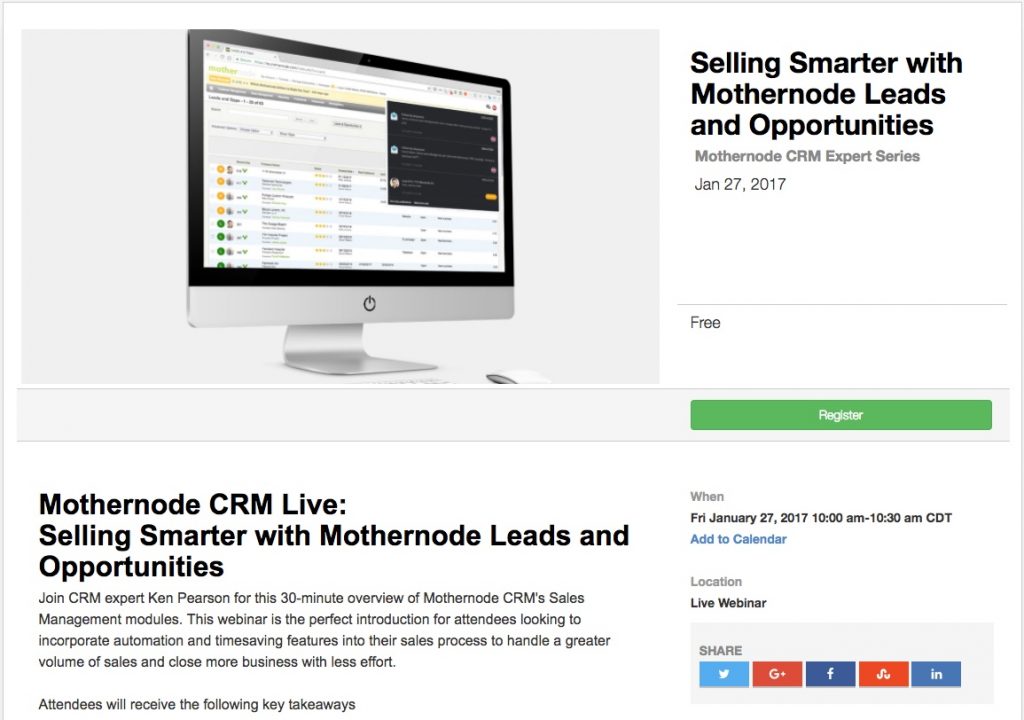 Report Automation
Information you want, when you want it
Do you forget to run reports? Mothernode doesn't! With built-in report automation features, you always get the information you need, when you need it. Mothernode's custom report features, available in each module, let you create your own reports and schedule them to be delivered to any email address you want. Build reports for yourself or send them to your team.

Real-Time Notifications
Stay in the know
With everything going on in your business, from sales to customer service, there's so much to keep track of. Mothernode CRM's notifications provide updates in real-time. Subscribe to the notifications most important to you and you'll always be in-the-loop.
Website Visitor Tracking
Tracking Interest
Mothernode CRM gives you real-time notifications when your contacts (either leads or customers) visit your website. Mothernode provides users with additional analytics, giving them insight into their prospect's precise interests. Track as many domains and websites as you want!

Gmail and Outlook
For the way you work
Mothernode CRM gives Outlook and Gmail users the convenience of accessing customer and contact data directly from within their email client with the Outlook Add-in or the Chrome Extension for Gmail.