3
minute read
A recent Marketing Sherpa study revealed nearly as many of 75% of your website visitors aren't necessarily ready to buy, at least at the moment.
The study, which states 73% of all B2B leads are not sales-ready, is a valuable lesson that stresses the importance of sales and marketing automation. If 3/4 of your leads aren't ready to buy from you and you're not using any kind of automation in your sales and marketing process then these two things are having an negative impact on your business and sales.
-You're wasting time and effort on following up on leads that have a less than a 25% chance of closing.
-You're giving up too soon on the ones that could eventually convert to paying customers.
In the example below, 208 leads were delivered to a sales team within 1 month. 87% of the leads did not convert. This also means that some of them, if not all, were non-responsive to follow-ups. Sales only converted 13% of the business.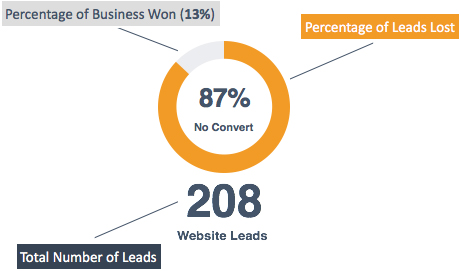 Automating the sales process can virtually eliminate up to 100% of the time wasted following-up with leads that have no intention of purchasing at all or immediately.
Use sales and marketing automation to increase close ratios and decrease effort. Here's how.
1. Build email workflow sequences to automate responses and follow-up. This can eliminate 98% – 100% of your follow-up effort. eliminating time invested in leads that may not be sales ready, frees up time to focus on prospects with a higher probability of conversion. Reclaiming your wasted time is a key ingredient to the success of sales automation.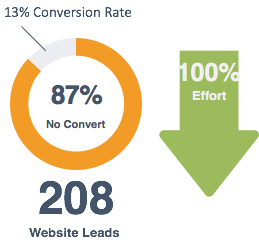 2. Create lead nurture strategies that drip relevant content to your prospect that allows you to remain engaged with your brand during their decision making process. Lengthening the time in which you spend in front of your prospects will increase your chances of them buying from you, when they become a sales-ready lead. Marketing automation allows you to accomplish this with very little effort.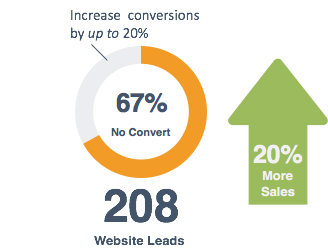 Implementing a sales and marketing automation process is not as complicated as you think, and the results are practically immediate. In the short term, you'll see a reduction in efforts and in the long term you'll see the increase in total conversions, by implementing lead nurture strategies that speak more precisely to your customers' needs.