Transform the way you sell and service customers
Do More. Pay Less
You won't achieve ROI when dependent on CRM technologies that are difficult to use, cumbersome to navigate and poorly adopted. Because Mothernode CRM is easy to use and integrates with the technologies you depend on daily, the odds of facing these challenges are slim to none.
Unlimited Customers and Contacts   |   1GB of file storage   |    Send up to 25,000 emails/month.
Migrate your Salesforce data today
and start saving!
1. Sign up for a 30-day Free Trial with Mothernode CRM
2. Export your data from Salesforce
3. Import your Salesforce Data into your Mothernode Account
Mothernode
Sales and Marketing Edition
$59.99
/user/month
[billed monthly]
Salesforce
Professional Lightning
$75
/user/month
[billed annually]
Simplified Sales Management
Visualize Your Sales Process
Whether you're trying to organize and prioritize your pipeline or get a complete picture of your sales activity, Mothernode CRM's Board View gives you a simple, yet powerful perspective on your sales activity.  Drag and drop Leads and Opportunities as they advance through your sales process. Pin your favorites to the top and easily review and update details, all from the Board View. Apply powerful filtering features to build your ideal board.
Marketing Automation
Intelligent solutions for distributing relevant content
Work smarter, not harder. Mothernode's email marketing automation gives you access to powerful content distribution features that will save you time and make you money. Expanding your engagement capabilities means broadening your opportunities like never before. Whether you're looking to compliment your sales process or retain more customers through better customer service, Mothernode's email automation features are a must-have.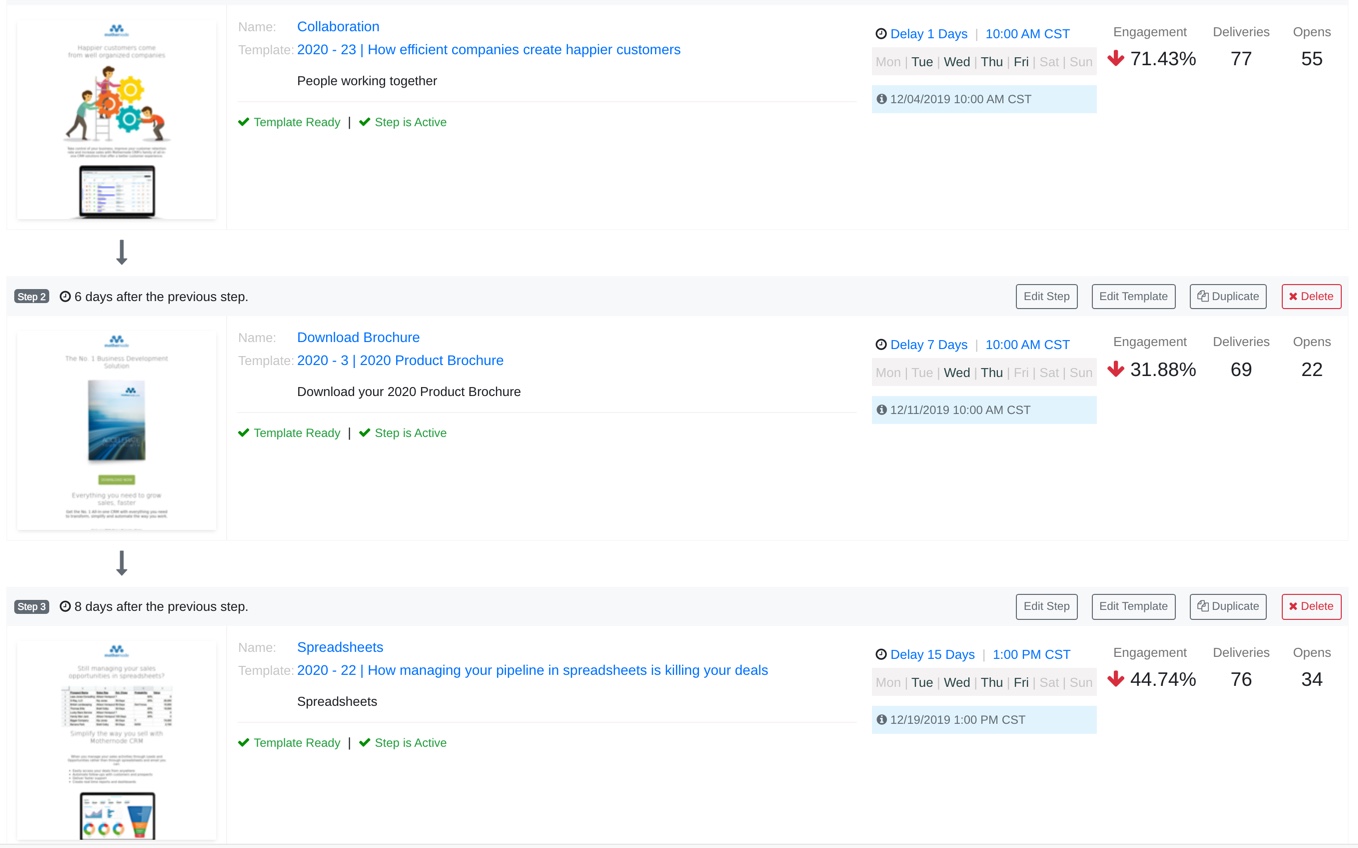 Template Studio
Design tools for non-designers
Mothernode CRM's Template Studio makes designing captivating email a breeze. Drag and drop content from your desktop or image library, quickly add text, links, buttons and more, and voila you've got a brand new, stunning email that your prospects can't wait to receive!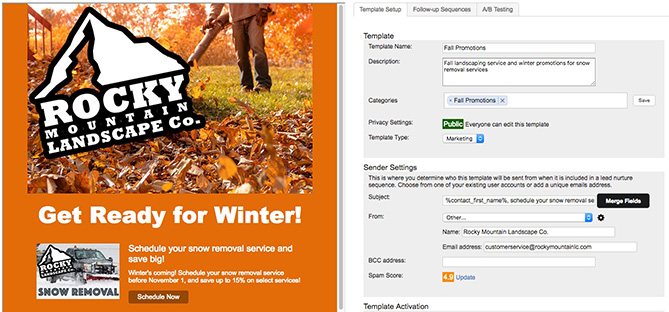 Account Management
Centralized customer data
When it comes to effectively managing your customer data, Mothernode delivers! Everything you need to know about your customer is available in a simple, easy-to-read customer profile. Customize tabs, access contacts and record details. From customer notes and appointments, to communications and follow-up sequences, managing your accounts has never been easier.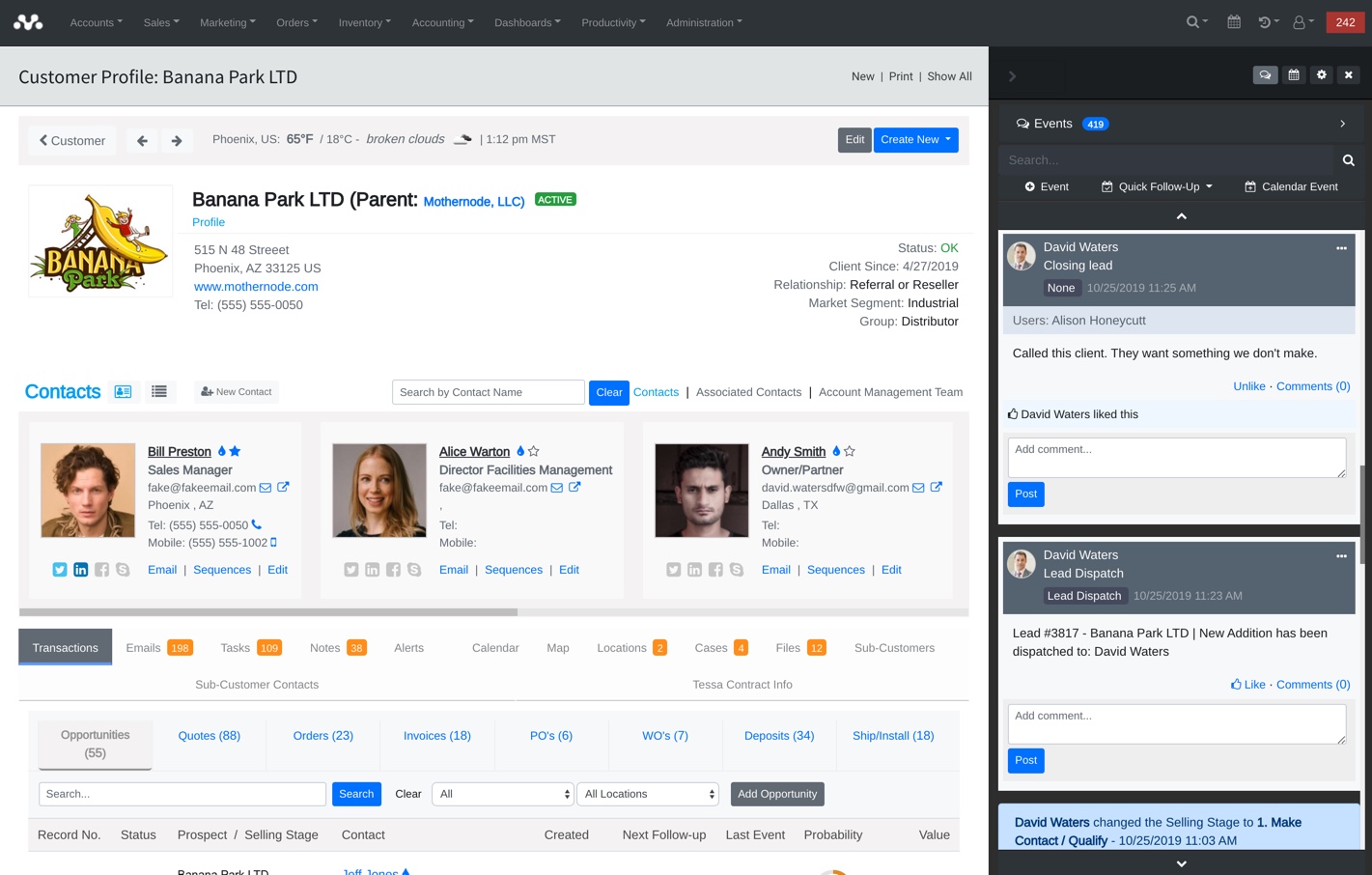 Report Automation
Information you want, when you want it
Do you forget to run reports? Mothernode doesn't! With built-in report automation features, you always get the information you need, when you need it. Mothernode's custom report features, available in each module, let you create your own reports and schedule them to be delivered to any email address you want. Build reports for yourself or send them to your team.

Real-Time Notifications
Stay in the know
With everything going on in your business, from sales to customer service, there's so much to keep track of. Mothernode CRM's notifications provide updates in real-time. Subscribe to the notifications most important to you and you'll always be in-the-loop.
Quotes
Powerful, professional rapid pricing
Hands-down one of the most powerful quoting modules you'll find in any cloud CRM. Everything you need for producing quotes and estimates quickly. Mothernode quotes include version tracking, products and service listings, deposit tracking and can be delivered for electronic signing.
Website Visitor Tracking
Tracking Interest
Mothernode CRM gives you real-time notifications when your contacts (either leads or customers) visit your website. Mothernode provides users with additional analytics, giving them insight into their prospect's precise interests. Track as many domains and websites as you want!

Lead Capture Forms
Fill your funnel
Mothernode's Lead Capture forms let you create and stylize forms for your website, blog and email marketing campaigns. Harvest your online leads and instantly inject them into your sales and marketing processes.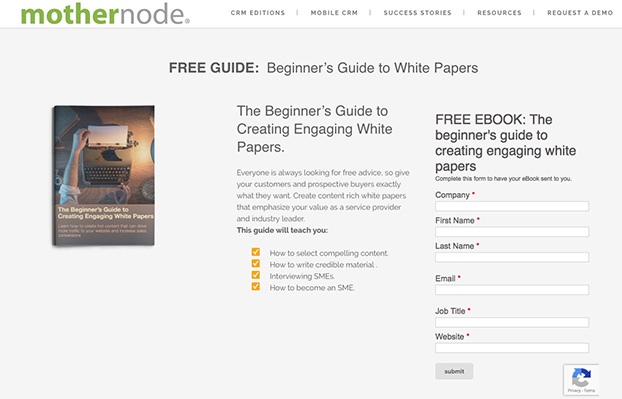 Gmail and Outlook
For the way you work
Mothernode CRM gives Outlook and Gmail users the convenience of accessing customer and contact data directly from within their email client with the Outlook Add-in or the Chrome Extension for Gmail.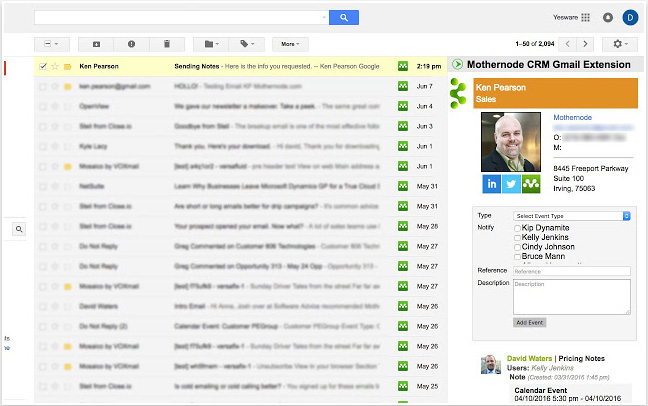 Online Registration
Turn Registrations into Lasting Customers
Trainers, speakers, consultants and event managers can harness the power and efficiency of Mothernode's Event Registration platform. Design beautiful registration templates, accept registration payment and use Mothernode's marketing automation for upcoming event announcements and long term follow-ups.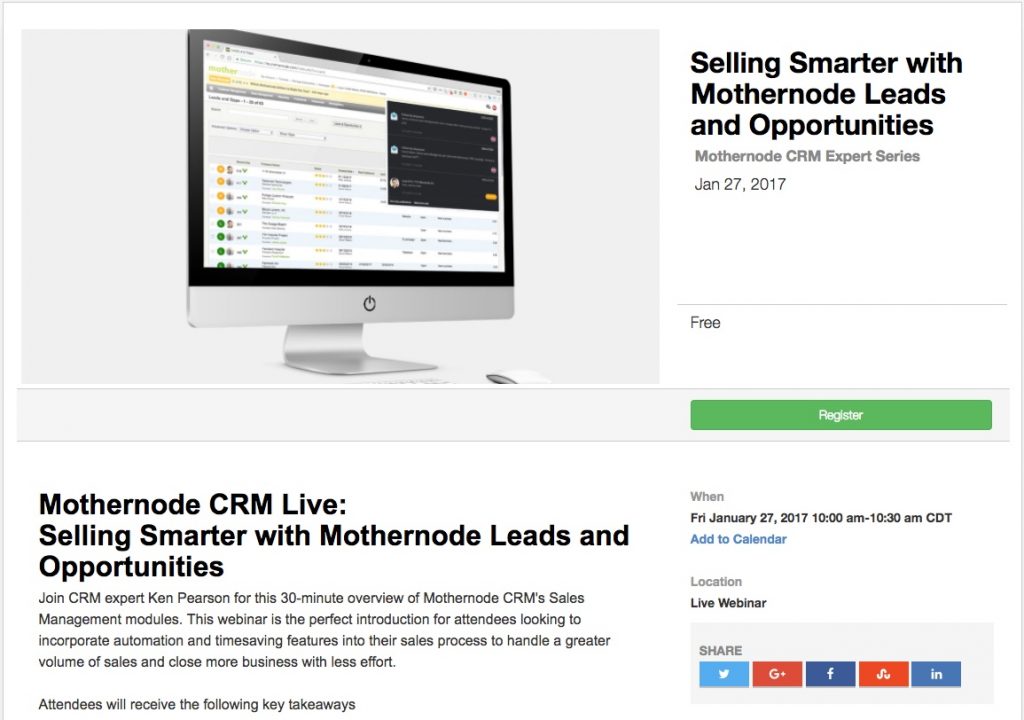 "RMT was overpaying for a CRM solution (Salesforce) that contained too many features and options that were beyond our business processes. We were in search of a solution that was not convoluted and did not contain additional manual processes for our sales team,"
– Anne Khan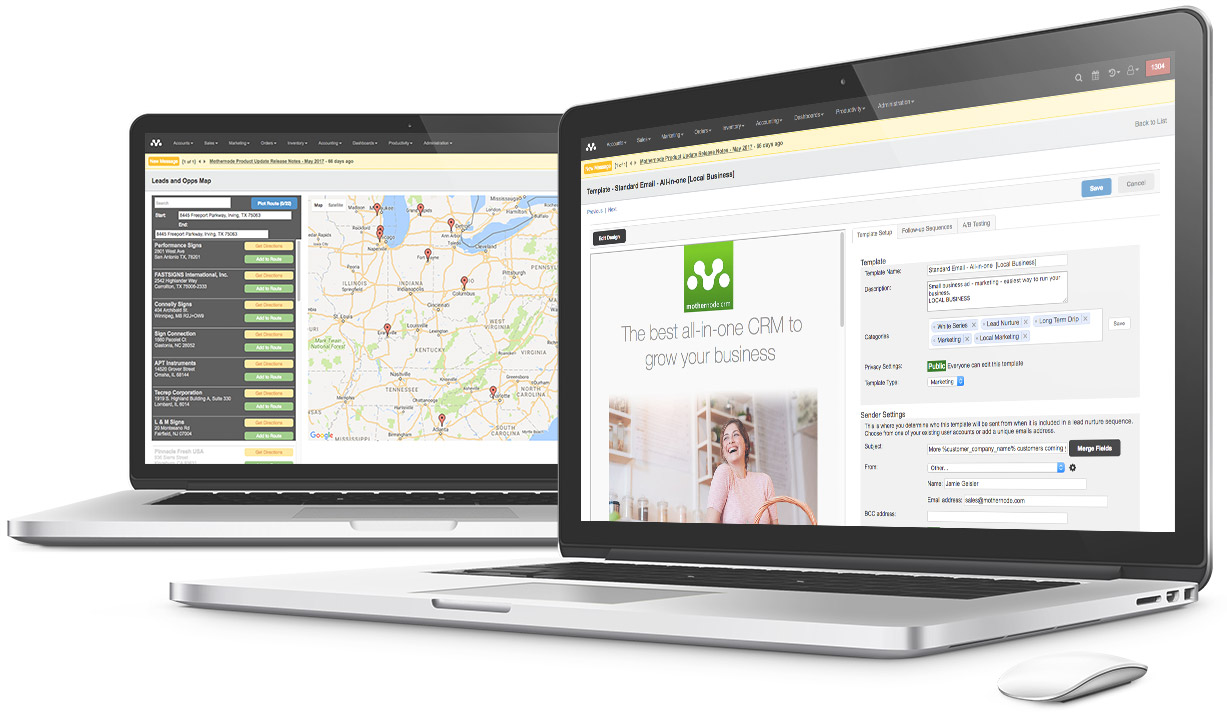 Try Mothernode or Get a Guided Tour
Interested in learning more about what Mothernode CRM can do for you? We've got a few ways for you to find out.